The SISU Mouthguard was created by Dr. Jan Akervall, MD, PhD. He is a top 1% ENT (Ear Nose Throat) Doctor in the U.S. & Creator of SISU™ Mouth Guard. There are two sizes of mouth guards and they range from 30% to 60% stronger than conventional mouthguards while also being 30% to 60% thinner. Unlike conventional mouthguards you can talk, breathe and drink with these SISU guards. You can also mould, and remould them as many times as you like. Typical mouthguards can only be molded once.

What makes SISU so much better?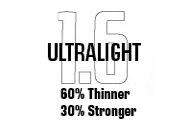 SISU is a novel ultra thin and tough mouth guard that is stronger than conventional mouth guards and allows users to breathe, talk and drink. It is an excellent mouth guard for high impact sports, team sports and high performance sports where you need to be able to be at your very best, all the time.
SISU competitors claim that they not only provide dental protection but also protects against concussions. SISU beats its competitors in 4 important material characteristics:
30-50% lower transfer of impact forces to the teeth
90-140% better absorption of impact forces
8 times higher tensile strength (toughness)
30 times less deformation of the material upon impact
SISU is perforated and there are several reasons why the perforations are important:
They help strengthen the material by oscillate under impact, pretty much like how bridges are built.
The perforations will help with the fitting of the material because it allows for the saliva to flow through the holes. This will give you a very snug fit, ensuring that your can communicate with your teammates – in an understandable way. You will also be able to breathe without problem when you wear a SISU Mouth Guard.
You will experience less drooling when wearing your SISU, and you can drink with it in.

How to Fit a Mouth Guard
SISU mouth guards are simple to fit to a perfect shape around your teeth. It is a quick and easy procedure.
Here are the steps:
Wash your hands and the material with soap and water.
Heat water in small bowl (hot to the touch, but not boiling). Place the material into hot water until it turns transparent. Then lift it out of the water with a fork or your fingers.
Hold the soft material as shown in the picture. DO NOT LET IT FOLD! The material will glue together, making it hard to reshape.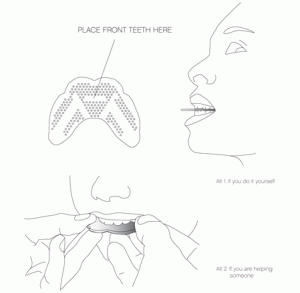 Tilt the head back and open the mouth widely. Place the front teeth so they can gently bite down on the solid cross bar. Press the tongue against the palate. Most of the material should be on the outside of the teeth.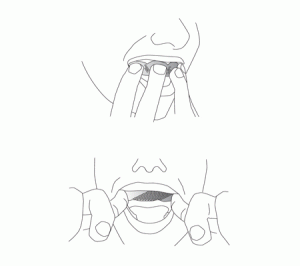 Use a mirror. Mold it against the front of the teeth with your fingertips and up on the sides to the gum line to create the shield. Make sure it covers the outside of the molars.
Close the lips over the mouth guard and gently create a suction until the material has hardened to get a snug fit. If you are not satisfied with the result just slip the mouth guard into the water, let it soften and straighten out . . . and start all over again.
Cleaning and Storage
Rinse the SISU™ mouth guard thoroughly in lukewarm tap water and soap, alternatively mouth wash, each time it has been used. Additionally, the mouth guard can be brushed with a regular toothbrush using regular tooth paste. Carefully rinse and dry before storage. Store your custom fitted SISU mouth guard at room temperature under dry conditions.
---